Hospitals to replace doctors with AI for tasks, including cancer diagnosis
Posted: 25th May 18 3:52 PM
University College London Hospitals (UCLH) aims to bring "game-changing" benefits of artificial intelligence (AI) to NHS patients, from cancer diagnosis to reducing wait times.
One of the country's biggest hospitals has unveiled sweeping plans to use AI to carry out tasks traditionally performed by doctors and nurses – from diagnosing cancer on CT scans to deciding which A&E patients get seen first.
A three year partnership between UCLH and the Alan Turing Institute [will link] aims to bring the benefits of the machine learning revolution to the NHS on an unprecedented scale.
Professor Bryan Williams, director of research at UCLH NHS Foundation Trust, said that the move could have a major impact on patient outcomes, drawing parallels with the transformation of the consumer experience by companies such as Amazon and Google.
At the heart of the partnership, in which UCLH is investing a "substantial" but unnamed sum of money, is the belief that machine learning algorithms can provide new ways of diagnosing diseases like cancer, identifying people at risk of illness, and directing resources. But, the move could also trigger concerns about privacy, cyber security and the shifting role of health professionals.
"Machines will never replace doctors, but the use of data, expertise and technology can radically change how we manage our services – for the better," said Professor Marcel Levi, UCLH chief executive.
Could artificial intelligence help diagnose mesothelioma and other asbestos-related lung cancers?
An AI has already been developed by researchers at an Oxford hospital that can read CT scans for signs of lung cancer and heart disease.
The AI system looking for signs of lung cancer searches for large clumps of cells called nodules within the lung. Doctors can't tell whether these clumps are harmless or will go on to become cancerous, so patients go on to have several more scans to follow the development of the nodules.
However, clinical trials have shown that this AI system can rule out the harmless cases – saving the NHS money and patients several months of anxiety. It can also diagnose lung cancer much earlier.
This AI system is being commercialised by a start-up company called Optellium. The company's chief science and technology officer, Dr Timor Kadir, says that trials of the AI in Manchester suggest that more than 4,000 lung cancer patients a year could be diagnosed much earlier and so have a much greater chance of survival.
"Rather than focus on cost savings, within a resource-constrained system such as the NHS, we're really looking at how to offer better healthcare to more people for the same proportion of the GDP. This is the potential of AI in the UK," says Dr Kadir.
Dr Kadir estimates that the lung cancer diagnosis system could save £10billion if applied in the US and EU.
Why is it important for cancers like mesothelioma to be diagnosed earlier?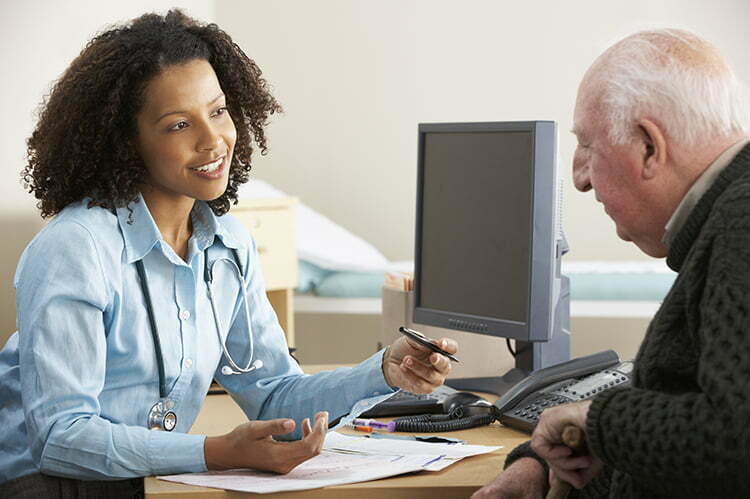 When a cancer is diagnosed earlier, more treatment options are available, and they are more likely to extend the life of the patient. Only around half of cancers are diagnosed at their earliest stages (1 or 2) in England. Earlier diagnosis of cancer can save lives and avert treatment costs. It is critical to improving cancer outcomes throughout the UK.
Asbestos-related cancers such as mesothelioma and asbestos-related lung cancer can take many years to develop. Because symptoms only show long after exposure to asbestos dust and fibres, and in later life, people usually put the symptoms down to just "getting old", as they usually involve tiredness and difficulty breathing.
With an earlier diagnosis of an asbestos-related disease, more treatment options become available for patients, which often give a better quality of life than if they had started treatments any later. Conditions become easier to control if treatment starts earlier, and could help to prevent the patient from suffering infections or allowing the condition to worsen.
An earlier diagnosis of an asbestos-related lung cancer also shows greater benefits – the sufferer may be able to have surgery to remove the tumour. Leaving the diagnosis until it is too late may mean that the tumour has become inoperable, or even metastasised to other parts of the body. Treatments for lung cancer have come a long way in the last decade – especially for those lucky enough to be diagnosed early.
Further reading
Cancer patients could be saved by early diagnosis using artificial intelligence
Possible mesothelioma breakthrough in Model Tomlin order for settlement of future immunotherapy claims
Unclear if cancer diagnosis funding is being used as intended