Unclear if cancer diagnosis funding is being used as intended
Posted: 20th May 18 12:00 PM
Funding for the NHS designed to improve early diagnosis of cancers might not be reaching the intended services, according to a recent report.
The report by Cancer Research UK highlights how variable the use of diagnostic testing is in different parts of England, and suggests funding might have been spent elsewhere in the NHS.
Why is it important for cancer to be diagnosed earlier?
When a cancer is diagnosed earlier, more treatment options are available, and they are more likely to be successful. Only around half of cancers are diagnosed at their earliest stages (1 or 2) in England. Earlier diagnosis of cancer can save lives and avert treatment costs. It is critical to improving cancer outcomes throughout England.
The 2015 cancer plan made early diagnosis a priority for the Government and for NHS England.
Up to £300million more each year was promised for diagnostic services by 2020. Demand across these already stretched services has been predicted to continue to rise.
What does the report show?
The report has shown that some progress has been made, using survey responses from 106 clinical commissioning groups (CCGs) – NHS bodies responsible for the healthcare in their area.
Nine out of 10 CCGs were aware of the guidance to ensure "adequate diagnostic capacity" to meet the needs of patients. However, many could not provide figures on the past demand for diagnostic services or forecast future levels. The information for funding and waiting times were also often missing.
Despite the additional funding allocated to CCGs, 7 of the 24 that provided their budgets in the survey reported a decrease in diagnostic spending between 2015/16 and 2016/17.
The report also recommended that NHS England and the Department of Health should hold CCGs to account for the improvement of diagnostic services, and that future funding increases are to be ring-fenced.
"Both the NHS and the Government have made early diagnosis of cancer a priority, but more staff and kit are essential to make this a reality," said Sarah Bainbridge, from Cancer Research UK and the lead author of the report. "Our report shows that it is unclear whether local budgets are putting diagnostic services at the top of the agenda. Some areas have no definite plan to boost diagnostic capacity."
How could this affect those with asbestos-related cancers?
Asbestos-related cancers such as mesothelioma and asbestos-related lung cancer can take many years to develop. Because symptoms only show long after exposure to asbestos dust and fibres, and in later life, people usually put the symptoms down to just "getting old", as they usually involve breathlessness, tiredness and difficulty breathing.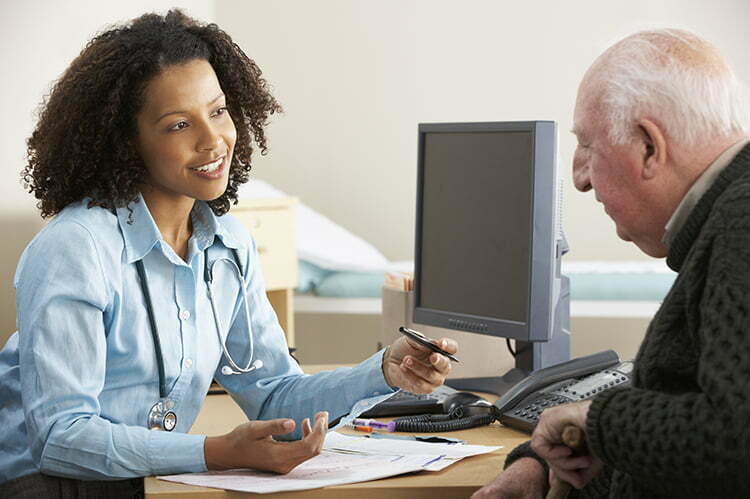 As the first point of contact for most patients, GPs hold a pivotal role in the diagnosis of an asbestos-related disease, which can make all the difference to their patients' care and to securing their family's future.
With an earlier diagnosis of an asbestos-related disease, more treatment options become available for patients, which often give a better quality of life than if they had started treatments any later. Conditions become easier to control if treatment starts earlier, and could help to prevent the patient from suffering infections or allowing the condition to worsen.
An earlier diagnosis of an asbestos-related lung cancer also shows greater benefits – the sufferer may be able to have surgery to remove the tumour. Leaving the diagnosis until it is too late may mean that the tumour has become inoperable, or even metastasised to other parts of the body. Treatments for lung cancer have come a long way in the last decade – especially for those lucky enough to be diagnosed early.
Immunotherapy is a potential life-extending treatment for victims of mesothelioma and asbestos-related lung cancers whose tumours have progressed after exhausting other forms of treatment. Although it is not effective for everyone, studies have shown that a significant proportion of patients derive some clinical benefit. It is currently impossible to predict in advance which patients will benefit, so that it is appropriate that, wherever the victim remains sufficiently well, an initial course of the treatment (usually over 12 weeks) is tried. This is just one reason why an early diagnosis is very important for patients.
What is mesothelioma?
Mesothelioma is an incurable cancer caused by exposure to asbestos dust and fibres. The disease affects the thin membrane that covers the lungs.
It is a rare cancer, but it is becoming increasingly more common. Figures from the Health and Safety Executive show that more than 2,500 people are being diagnosed with mesothelioma in the UK each year and, according to the Department for Health and Pensions, 53,000 people will die from mesothelioma between 2013 and 2037.
There are about 5 times as many cases of the cancer in men as there are in women. This is most likely because the majority of cases are found in an older generation of skilled and manual workmen who were exposed to asbestos dust and fibres during their working life.
Mesothelioma and asbestos
Asbestos is a fibrous material that was widely used for its fire-resistant and insulating properties until the late 1990s. The use of asbestos is now banned in the UK and there are strict guidelines about its safe removal.
It is estimated in the UK that 9 out of 10 men with mesothelioma and more than 8 out of 10 women have been in contact or were exposed to asbestos dust and fibres. We know that exposure to asbestos is the leading cause of mesothelioma.
Dr Robin Rudd, a medical expert in mesothelioma and asbestos-related disease cases, has stated: "Mesothelioma can occur after a low level of asbestos exposure and there is no threshold dose of asbestos below which there is no risk."
This means that inhaling even a single fibre could potentially cause mesothelioma.
If you or a loved one is ever diagnosed with mesothelioma, asbestos-related lung cancer, or another asbestos-related condition, don't hesitate to get in touch with the National Asbestos Helpline. We're here to help you with advice about your condition and how to cope with it, and can also advise on any benefits and/ or compensation you might be entitled to. Call us on Freephone 0800 043 6635, or email enquiries@nationalasbestos.co.uk.
Further reading
Positive outcome for mesothelioma claims against factory occupiers from High Court case
Possible mesothelioma breakthrough in Model Tomlin order for settlement of future immunotherapy claims
Cancer patients could be saved by early diagnosis using artificial intelligence