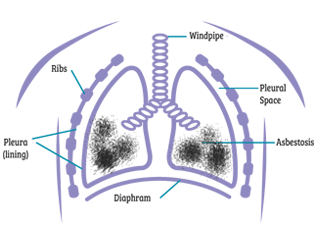 What is Asbestosis?
Asbestosis is defined as a diffuse pulmonary fibrosis caused by the inhalation of excessive amount of asbestos.  It is a chronic lung condition. Pathologically both pulmonary fibrosis and evidence of asbestos in the lungs must be present.
The interval between onset of asbestos exposure and the development of symptoms of asbestosis is usually between 20-40 years or more.
You are at risk of developing asbestosis if you have been subject to prolonged asbestos exposure.
Individuals involved in the following occupations are generally thought to be at risk of asbestos exposure (please note that this is not an exhaustive list of occupations where asbestos exposure may occur):-
Building surveyors
Cable layers
Carpenters or joiners
Computer installers
Construction workers
Demolition workers
Electricians
Fire or burglar alarm installers
Fire fighters
Gas fitters
General maintenance staff
Heating and ventilation engineers
Laggers
Insulation workers
Miners
Plumbers
Plasterers
Roofing contractors
Shipyard workers
Shop fitters
Telecommunication engineers
Textile workers